Research will save lives
"Stop talking about it and do something about it. That's how I feel about finding more money for cancer research. My hope is ... the words a cure won't be followed by the words ... is impossible."
Patrick Swayze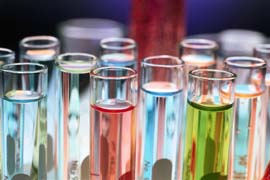 Why Support Research?
Pancreatic cancer is an insidious disease that can strike anyone, at anytime. People are shocked to learn that it claims nearly as many lives each year as breast and prostate cancer yet remains somewhat of an "underdog"; under funded, misunderstood and under recognized. A landmark report from the non-profit institute, Charity Intelligence Canada, cited pancreatic cancer as the most seriously underfunded cancer, receiving less than 1% of research and charitable funding. This gap between lives lost and funding presents an enormous opportunity for donors to save and improve lives.
Pancreatic cancer is the fourth leading cause of cancer death in Canada. There is no known cause, no early detection and no known cure. Seventy-five percent (75%) of all patients diagnosed with pancreatic cancer die within the first year, most within the first three to six months. Surprisingly, only a handful of scientists concentrate solely on this disease. This is a direct result of the amount of funding earmarked for pancreatic cancer. The survival rate has remained unchanged for decades - in the single digits (8%).
Rapid improvement in the outcome of some cancers such as colorectal cancer and breast cancer has demonstrated the important role of research for improvement of cancer care. To improve the outcome of pancreatic cancer, investment from both federal allocated research dollars and philanthropic support is needed to support research into early diagnosis, better identification of risk populations and improvements of treatment.
Give with your head as well as your heart - Toronto Star - Margaret Wente, April 28th 2011
Deadliest Cancers overlooked by charity donors: study - Global News - April Lim, April 26th, 2011
Canadian Cancer Investment in Research 2007 - PDF
Deadliest cancer in research funding gap - April 26, 2011
Rapid Diagnostic Centre for Pancreatic Cancer
Pancreatic Cancer Genome Initiative
Centres of Research Excellence