Philanthropy in Action
"Dr. Moore and his staff have a vision to do much more in the area of pancreatic cancer, things that needed a significant boost of investment to have impact."
Paul Alofs
President and CEO, PMHF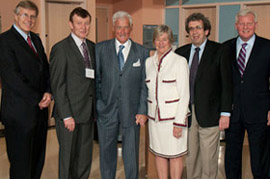 Rapid Diagnostic Centre
Most patients present to their local doctors with relatively vague symptoms and research has indicated that it often takes 2-4 months from this time until a diagnosis is made and they are referred to an oncologist. . Time is precious for patients with pancreatic cancer and during this 2-4 month phase many patients become ill and are less able to be treated aggressively. Thanks to a generous leading gift of $5 million dollars from the McCain family and an ongoing commitment for operating costs from Pancreatic Cancer Canada this facility, known as the Wallace McCain Centre For Pancreatic Cancer , will become a reality . This facility will be a clinic where patients could have their blood, radiology, biopsy and other interventions done within a week and then be immediately assessed by the oncology team. It would mean a higher likelihood for curative therapies and would also further support all the research programs at Princess Margaret Hospital.
Listen to Libby Znaimer's interview with Dr. Malcolm Moore and Wallace and Margaret McCain - Click on McCain Rapid Treatment
Pancreatic Cancer Canada is committed to providing financial support for this soon to open centre at Princess Margaret Cancer Centre. It is our hope that this approach to diagnosing pancreatic cancer can be replicated at other cancer centres across Canada.