Ways to make a difference
"When you get involved, you feel the sense of hope and accomplishment that comes from knowing you are working to make things better."
Maya Angelou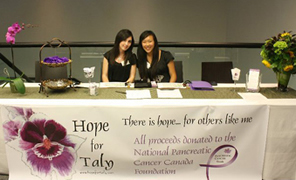 Create an Event/Fundraising Page
Planning an event to honour and celebrate a loved one is a wonderful way to make a difference in the fight against pancreatic cancer.
Gabriella Villa's family (TR) has organized an event to mark what would have been her 50th Birthday. The event will celebrate her life and help raise awareness and important funds to advance research.
Getting started is as easy as 1-2-3!
1. Choose a fundraising activity that inspires you. Need some ideas, check out our top fundraising ideas
2. Create your own online event fundraising page. The process is simple. Set your fundraising goal, register and spread the word! Remember to customize your page with a favourite photo and personal story. Monitor your site and watch your fundraising thermometer rise with each donation

3. Once your page is set up, use the Login on your next visit to review your fundraising results or manage your page.


Do you already have a fundraising page set up?
Login to your Fundraising Page - Remember, if you have created a fundraising page in the past, please login, using your original username and password, before you register your new event!
Looking for a fundraising page?
Search for a Fundraising Page to view, donate or leave a message.

Need Help? Contact us at info@pancancanada.ca or call 1-888-726-2269.