Ways to make a difference
"When you get involved, you feel the sense of hope and accomplishment that comes from knowing you are working to make things better."
Maya Angelou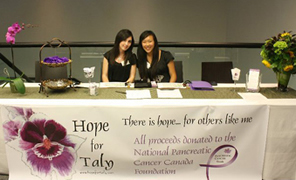 Fundraise for us
Fundraising across Canada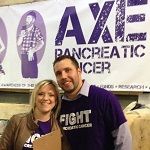 Thank you to the following who have
recently held a fundraiser to help fight
pancreatic cancer
ATCO -
RBC Casual Day - $1000
Tribute to Elaine Parnell - $4,000
Hair Raiser for Suzanne Backus $10,000
Brian Jessel BMW Cabriolet - $240,000
Patty's Party - $5,000
Pansies for Inter-Medico - $1,000
Pansies Unionville - $1,600
Pansies Guelph - $1,300
Peddling for Paddy- $3,600
Pansies Eston -$3000
Branksome Hall Fundraiser - $600
Journey to Conquer Cancer - $75,000
7 Days in May - $100,000
TELUS Holiday Critters - $500
Marche Nocturne - $11,600


Each year, individuals whose lives have been affected by pancreatic cancer connect with us in efforts to make a difference in the fight against pancreatic cancer. Some individuals create a tribute page to honour a loved one. Others create personal fundraising pages or host an event to honour a loved one.
Turn any activity into a fundraising opportunity; just let your imagination run wild. From bake sales, to head shaves to golf tournaments – the possibilities are endless!
Getting started is as easy as 1-2-3!
1. Choose a fundraising activity that inspires you. Need some ideas, check out our list below.
2. Start by creating your own DIY online fundraising page. The process is simple. Set your fundraising goal, register and you're on your way to fundraising success! Remember to customize your page with a favourite photo and personal story.

3. Tell everyone! Spread the word about your fundraiser and why you're committed to making a difference in the fight against pancreatic cancer. Monitor your site and watch your fundraising thermometer rise with each donation.
Need Help? Contact us at info@pancancanada.ca or call
1-888-726-2269
1-888-726-2269


Here are some great fundraising ideas
Golf Tournaments
Walks/Runs
Bike-a-thons
Marathon (participate as an individual or start a team)
Triathalon (participate as an individual or start a team)
Art Event
Head Shaves
Celebrate a special occassion and ask your guests to make a donation to your online fundraising page instead of gifts
Dinner or Cocktail Theme Party
Bowling Event
Benefit Concert
Garage Sales
Bake Sales
Car Wash
Movie Night
A 'dog walk' - invite your friends from the dog park to participate and collect pledges for each kilometer walked
Get your company to allow a 'Jeans Day or Week' - employees can wear their most comfortable jeans by making a donation to your fundraising page. We have Casual Day stickers.