We have the power
"We can choose to be affected by the world or we can choose to affect the world."
Heidi Wills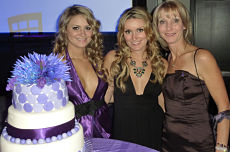 Events
Organize & Host an Event
Join the many individuals, families and community groups who help us each year by hosting their own fundraising event. You'll be raising awareness and providing important funds that support leading-edge research and improvements to treatments for patients across Canada.
From garage sales, to bake sales to golf tournaments, events of every size make a difference in the fight to end pancreatic cancer. Need an idea? Check out some of our top fundraising ideas below.
To get started, we'll provide you with the resources and inspiration you will need for a successful event, including:
Support and advice from our knowledgeable staff
Detailed fundraising and event guidelines to maximize your fundraising efforts
Event listing on our online event calendar
Create your own personal online fundraising page
* If you are planning to host an event and want to post it our our website, you must complete our Event Registration Form.
For more information, please contact us at 1-888-726-2269 or email us at info@pancancanada.ca

In this Section:
Organize an Event
How to get started
Upcoming Events
Create a Fundraising Page
Event Registration Form
Fundraising Ideas
Calendar of Events