Facing our fears
"We gain strength, and courage, and confidence by each experience in which we really stop to look fear in the face..."
Eleanor Roosevelt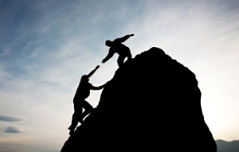 Wall Of Hope And Inspiration ...
This wall is a special way for individuals, families and organizations to honour and encourage those extraordinary people in their lives who have been affected by pancreatic cancer with words of encouragement and hope.
Many survivors relate how they found strength through their family and friends and have learned that they are stronger than they ever believed they could be. We welcome you to share your stories of resilience and courage so that others can be inspired.
Your gift will support research that focuses on discovering new and better ways to diagnose and treat pancreatic cancer and improve the quality of life of people living with this disease.
We thank you for your words of hope and your generosity. Make a donation now.
Together ... we can make a difference in the fight to end pancreatic cancer
Below you will find the names of those we honour ... our loved ones, our friends and our colleagues
The following names are listed in alphabetical order according to the last name. When you click on a specific name, you will be routed to that person's name/message on the tribute portion of this page.
| | | |
| --- | --- | --- |
| Names A - G | Names H - O | Names P - Z |
| | | |
Honouring those who continue to FIGHT and INSPIRE us each and every day...

ATCO EPIC Fundraising Campaign
Alison Ireland
Joyce Werk
Kenneth Stuparek
Walter Mitchell
George Leighton
Leonard LeBlanc
Sidney Haiste
Doug Baer
Canadian Utilities Limited
"A Special Christmas Wish for a cure to you in memory of your Mother" - Catherine Cathcart
" Love daddy's little girl' - Laura Kelly
"Please accept this donation made in your family's name as my gift to you this holiday season. Very proud to have such amazing people as my employers and friends.- Michelle Reid
"Good luck with your battle, Don" - Gabriel Mandel
Thank you so much for the music from the Bolin/Clark Family
"Hi Grampa! This donation is to honor you! I hope you get better soon. Love you so much! Oliver
"Hi Grampa. I can't wait to wrestle you again and I wanted to tell you that I'm donating money to Pancreatic Cancer so I hope you feel better soon. And I love you forever and I won't ever stop! Love Kai xoxoxxxooo
"HAPPY 60TH ANNIVERSARY. I WISH YOU MANY MORE HAPPY HEALTHY ONES. WITH MY LOVE" - Corrine Osher
Happy 50th Birthday - Angela Grella
"Thank you to everyone who participated in our "penny can" campaign over the past 12 months, together we raised almost $3,500...just by asking for pennies, thanks again. ps...we still welcome your unwanted pennies, as you can see, they still add up!" - the Stamp Family
"A generous donation in honour of Roslyn Friedberg, best wishes for a healthy and happy New Year" - Lovingly Brenda & Hannah Klein
"A Happy and Healthy New Year to the Clarfield Family" - Steven Colomby
Ladies Aux. Can. Italian Business Assoc.
Jim Lennox
Pat Fremeau
"Happy Golden Anniversary Penny & Jon" - Jorie & Al Hiscott
"For all you have done for St. Patrick Catholic School, we would like to make this donation in memory of your mother, Pat . The staff at St. Patrick will miss you greatly" - Sara Michea
"I love you Mom, stay strong" - Kerry Williams
Timothy Lee
Jenni Woods
Lauren Davy
Rosalie Tala Zepeda
Matt Mcilkenney
Rob Sommerville
Richard Chappell
Michelle Kehoe
Thelma Herley
Rebecca Tremblay
Chris Chappell
Sarah Chappell
Nicholas Chappell
Lindsay O' Bryan
Michele Herley Tremblay
Abigail Gordon
Laurie Cote
Andrew Sloan
Monica Chappell
"Happy Father's Day, Papa" - Steven Guillemette
"We are on your championship team! Love, Dara and Brad Gottleib
18th Arnon & Ron Enginee
"Your courage and resolve are an inspiration. Fight the good fight and win this battle" - D. John Naccarato
Paul Chesser
David W, Scott
Jonathan Freedman
"Charlesfort is proud to support a Champion" - Douglas Casey
In support of you, Arnie, from your friends at DSMA
Howard Cohen
Paul Chesser
Alan Cohen
"Thanks for showing us how it's done, Arnie.You quietly teach us all more than your humble self can ever imagine" - John Russell
David Gervais
Stephen Victor
Laurie Sanderson
Ron and Avalee Prehogan
"Wishing you refuah shleimah!" -Sincerely,Neri Braverman-Tischler and Aron Tischler
" Congrats on the rekindling of your vows. All the best" - Michael and Lynn Clarfield
" Happy Father's Day! I love you and I am so lucky to have you as my dad. Love Sam Starkman
"With love on Mother's Day to a woman with a tremendous spirit and beautiful soul" - Becky Stott
"Pat, you are one of the most giving people I know. I thought your anniversary gift should reflect that value. I know this cause is near and dear to your heart. One day we will find a cure so we don't have to watch our angels in heaven suffer" - April Campbell
"This is just a little thank you for being such a big help when I was in Montreal... thank you" - Patricia Salice
"Happy Birthday Maria, and many many more!" - Love Peg Beauchamp
"Your strength during this fight is inspiring! Happy Birthday! Love you!" - Gary, Kelly and Abbey Potts
Happy Birthday Josh! it is very generous of you to ask for charitable donations in lieu of birthday gifts" - Leslie Rowland
A contribution has been made to Pancreatic Cancer Canada. Happy Birthday & many years of happiness & health
"I am so very much inspired by all the good work that you continue to accomplish in memory of those who have lost their battles with pancreatic cancer and to honour those who are affected by this disease right now. Thank you!!" - Paul Larocque
"Happy Birthday Peggy" - Lorraine Blair
"Thinking of you and hope that you have a great birthday" - Love Colleen and Bob Dodge
"Happy '65th' - It is a pleasure to share my birhtday with you" - Love Denise De Bernardi
"We all behind you Brad, keep up the fight!!" - Turton Euchre Tournament
"Hope to see you in January for a special visit then. Will be thinking of you on the 28th" - Cheryl MacLean


Suzanne Bassett
"If you do your part - I promise to be there for your NEXT 50th party. Can't believe I had to miss it! xox Sandy Pearl & Mabel
Victoria Lemon
Margaret Darling
"Wishing you a very special birthday!And many more to come!!" - Lorraine Blair
"Dad you have always been my hero and you always will be!I know that this donation won't help you but it may help others.fight this horrible disease" - " - Laura Isenor
"For your Dad !!" - Noelle D Reitenbach
Wise Riddell Financial Group
"Thank you and Joe and Abbey for all the love and support you have given me and Dad this last year" - Cathrine Ross
"All the best you and Dwight in the Xmas season and in the New Year" - Linda and Mac Sparrow
"All the best in the Xmas season to the Laycocks" - Linda and Mac Sparrow
"Congratulations on your special birthday" - Elena and Roger
"Wishing you all the best."- Sheila Kirshenblatt
Pam Ross
Susan Sole
Billie Samuels
"In honour of you fighting this cancer Dad, we (the 4 girls) are each making a donation as a birthday gift to you. We are happy you are defying the odds and still with us 2 years after being diagnosed. Keep on fighting it Dad. We love you!" - Carmelle
"Bonne fête dad! Since you don't want any "stuff" for your bday, we thought we'd each contribute to the cause that you're fighting so hard to beat. This is your third one since you got the news, and you're showing this cancer who's the boss! " - Cleo Chartier
"Joyeux 72e anniversaire papa! Je suis si fiere de t'avoir commepere. Merci de tout tes bons conseils et de la sagesse que tu as partage avec nous. Je t'aime! Continue d'etre un guerrier dans ton combat avec le cancer! " - luv, JJ
"Bonne fête dad!" - Lisa Chartier-Derouin
"To honour your years on earth, my good friend!" - Claire Nault
"My mom is going to kick this cancer's butt!" - Michael Musi
"Keep fighting, koukla! S'ayapo" - Kimberly Lamontagne
"Good going Shell" - Ralph Akerstream
"You're such a great friend. This donation is in memory of your Grandfather" - Sid Silverberg
"Happy 60th, Jan! Your gift is the gift of hope" - Love,Pete & Judi Catania
Larry Schween
Samuel & Mary Marrion
Barry & Anita Cuttress
Vanessa Zawydiwski & Len DiBartolomeo
"Happy 40th Anniversary,With all our Love,Mom & Dad" - Antonio & Maria Colagiovanni
Kevin Lewis
Islander RV Sales & Rentals
Nikki Davi
Noralta Lodge Ltd D Torgerson
Ky Geddes
Michelle Symington
Safeway Pharmacy (Silver Sponsor)
"In honour of your Awesome Motorcycle Adventure and in memory of Robin and Leon" - Marcia Armstrong
"Good Luck, we hope all this money will do a lot of good"- Karen Morton
"Our best wishes for a full speedy recovery" - With Love, Barry & Carol Presement
"Merci pour ton implication!" - Raymond Tozzi
Emilie and Jacob Clermont
"I salute your strength and courage. You are a brave man" - Julie Beaulieu
"We are your daughter-in-law Erminia's good friends and wish you the best as you get treatment" - Linda Johnson
"May God bless your efforts" - Hassan Ghaddar
"To Ray & Bonnie - Here's a Christmas toast to good friends, from Joanne & Peter
"You have my admiration for your courage and thanks for your friendship over all these years" - Cheryl Steer
Pat Phillips
Mark Dover
Gunnar Kraag
John Gordon
Janet Banigan
Marianne Wood
Brad Robinson
G. Nettleton
Alan & Patricia Brookbank
Dudley Allan
"Good Luck with your fundraising efforts for Pancreatic Cancer Research" - Lillian Smith
"So happy to do this for you Pat and all the others" - E. Suzanne Halpenny
"Happy 90th Birthday - With all our love and affection" - Doug, Brigitte, Adam and Eric Karpman
"Keep up the fight mum. we are all pulling for you" - Sandy Mitchell
"Congratulations to Addison, Isabelle, and Josephine on their baptism and an honor of grandmother Rhodelle" - Rose Watson
"Hope you grow up as beautiful and kind as your Grandmother" - Cathy and Peter Foreht
"Happy Birthday to you!!" - Peggy Beauchamp
"Mazeltov on reaching this milestone. Happy 90th birthday!" - Peter & Fiona Solo
"Happy 11th Birthday, Sam! Papa would be very proud of you!" - Jane Taylor
" Peg Happy Birthday!I love to receive these kind of gifts. So I know you be pleased as well" - Love Denise
E. Gagliano
Brenda Pyton
Virginia Mirarchi
Amato Mirarchi
Maria Mirarchi
Purie Cabreros
Gagnon & Brunet (S.E.N.C)
Decelles Investments (1996) Ltd.
Dora & Tony Di Iorio
Cathy D'Anna
Cristina Nardelli
Teresa Mirarchi
Silvia Mirarchi
Bonnie Wells
Lillian Ryde
Katherine Ries
Kevin Johnston
Florence Sigouin
Elizabeth Bertram
Dawn Ritchie
Shannon Elaschuk
Deb & Rob Lindemann
John & Kathy Smith
David & Patti Hillacre
Lee & Don Harbicht
Michelle Brummund
Blair & Sharon Huard
Deb Lindemann
Patricia Johnston
Penny Faraday
Betty James
Wilma Hillacre
Rita & Lou Tessier
Trudy Bews
David Kosolofski
Bobbi Jo Brehm
Margaret & Cliff Olorenshaw
Annabelle Swinson
Linda Mohan
Glenys Getz
Dawn Ritchie
Cindy Kosolofski
Delmar Olfert
Gladys MacIntyre
Margaret & Glen Harrison
Floyd Siegle
Karen Serfas
"Good Friend Larry Good times past, present and future" - John Murray
"A donation in honour of Dorothy, an inspirational survivor" - with much love from Carolyn and Andy Ayer
" To Sheila, mother, wife, daughter, niece who exemplifies strength and perseverance everyday" - from Cindy & Amanda
"Dear Halls, No gift could ever express how sincerely thankful I am for your friendship, kindness and hospitality. Happy Holidays and nothing but the absolute best for the new year in your new home" Lots of love, Tarryn Rudolph
"Wishing you a very happy 60th birthday & many more" - With Love, Peter, Fiona & Family
"In honour of my high school teacher" - Constantine Saridakis
"Hope your birthday is as special as you are. Celebrate many many more in good health and happiness" - With love,Cyril, Carla, Sybil and family
"For my sister on her 65th birthday - may she enjoy many more!" - Val Daigen
Madelaine Drohan
Warren Caragata
"Continue your fight Mom and stay strong with the knowledge of all your family and friends praying for you and sending their love to intensify your strength and determination during this courageous battle of yours. Love Erick, Maggie and Becker
"I wish you a life filled with good health, happiness and prosperity" - Love Betty
"In lieu of wedding favours at our June 2011 wedding" Love Laura Shoemaker-Chorney and Chad Chorney
"I wanted to support your walk and still donate to research what has been shown to be a more lethal form of cancer" Michael Raybould
"Happy 25th Anniversary" Paul Budnick
"We wish to thank our guests for attending our wedding reception. On your behalf we have made a donation to this worthy cause" - Betty Evans
Earl Evans Farms Ltd.
Rick & Murray Evans Farming Ltd.
R.H. Five Holdings Ltd.
Gary Holt
Ken Morrison
Don Shwetz
Mark Evans
Earl Evans Farms Ltd.
Rick & Murray Evans Farming Ltd.
"Keep up the fight, Marian. We are so proud of your efforts. Love you girl!" - Betty Evans
"Happy and healthy 90th to a beautiful lady. so pleased to be celebrating with you" - Cyril and Carla Levin
"Feliz dia!" - Philip Gosewich
"From his neice, Mira, her 7th birthday fundraiser for her favourite Uncle who is diagnosed with pancreatric cancer and is undergoing treatment
" Love you so much Stephen, you are my hero!!!!! Stay positive & keep fighting!!!!! " - Judy Weinberg
"To my cuz who has fought every day for almost 3 years against this insidious disease! We love you!" - Suri Weinberg
"You are a miracle ...love you cuz!" - Judy Weinberg
"Mazel-tov on your wedding!"- Arlene Solomon
"Celebrating you on your 60th birthday! May you enjoy many more years in good health" Irma Robinson
"In memory of a childhood friend and neighbour" - Gerrie Millington
"Mazel-Tov on your wedding" - Arlene Solomon
"Happy Birthday Ellen and its so nice of you to recognize this charity. We have made a donation on your behalf"
Palma Catherine Burdon
Joanna Masotti
Emma Jazvac
Tracey Tanner
Kaye, Bruce and Les Smith
"Happy Big One!!!!!" - Joan Gelman and Donald Aronson -Soundbite Productions
"Happy 50th!! So that the future holds only celebrations for us to all share...Wishing all the best always" - Lori and Cary Luther
Christina Helen Crickard
Sheila White
DPH Focus Corporation
Marvin Tarek
Joe & Hilda Feimer
Brian & Dawn Potvin
Ed & Margaret Dragan
David & Annette Link
Debra Watson
Cathy Vanderwal
Shannon & Bob Huggett
Margie & David Pressey
Margaret Grimes
Charles & Sue Jackson
"In memory of a sweet, loving mother and grandmother" -Melanie, Corey, Kai, and Kody Olsen
Erin & Chris Knowles
Jennifer Lee
Anna Manor
Moms and Tots of Brighton, Inc
"We were lucky to have been able to work with Chris on various projects over the years. No matter what the project she was always keen and enthused and we looked forward to working with her. We are going to miss her" - NOVA Chemicals Calgary HR Team - Deb Jarvis
Alan and Christine Day
Robin Chamberlain
"Hi Adrienne. Your mom worked for me for years in the HR department here at NOVA. She was an absolute joy to work with, she worked hard and played hard. We're going to miss her. Our prayers are with your family at this very difficult time" - Kevin Watson
Anna Madajczuk
Carrie & Fred Maxim
"May this donation help in the early detection of this terrible form of Cancer on behalf of Chris" - Tony Pavli
"Sorry for your loss and you have my deepest sympathy" - Aaron McGhee
Jeff and Rhonda Emery
"You will always be in our hearts" - Scott Randall
Brianna McKelvie
"In memory of a baseball team member, a golf buddy, and a great mother, someone very special who should still be with us" Maureen Steele
Frank Wiles
Patricia Clune
"In honour of a woman who has never shied away from a challenge - our thoughts and prayers are with you Aunt Pat" - Andrew Donavon
"In honour & support of Carrie's "good fight." - On behalf of the bridal shower guests of Urmilla Sonja Dhani -Neesha Dhani
Opeyemi Adeleke
Akif Ghani
"Thanks for an inspiring and informative blog" - Margaret Procter
Manulife Financial-United Way Admin
"Keep up the good fight. Your nephews still have more to learn from you" - Andrea and Alex Panhuis
"In honour of Dr. Cleary of Toronto General and Dr. Malcolm Moore of Princess Margaret" - Robert Elliot
"A wonderful mother who won her battle with pancreatic cancer" - Cory Young
Joanne, Tom, Maureen, and Don/ The Estate of Mary Aileen Weekes
Don Weekes and co-workers
Mr. & Mrs. Ted Donnelly
Debra Myshynuik
Randy Kormos
Debbie Lone
Rick & Sharon Monson
Fran Weekes and her co-workers
"My thoughts and prayers are with you during this time" - Sincerely Sandra Stupak
Jean Olson
"Our memories will live on in our hearts forever. Don and I will always remember that last painful day where we held your hands and watched you take your last breath. May you rest in peace" - Maureen & Rick Donnelly
Bradford Lea
Deb Schellenberger
"So very sorry to hear about the loss of your mother. Our thoughts and prayers are with you" -Deb & Len Hallowes
Gordon & Sandy Harland
"Hope your final days in the hospice are as painless as possible" - Love from your son Donald, a 6-year testicular cancer survivor
Maria Marcu
Samantha Crowell
"This is for my grandma who is undergoing chemotherapy for pancreatic cancer. I had a twoonie party for my sixth birthday, and am donating my money to help find a cure to save my grandma" - Love Angus McClaren
Brian and Elaine Wilkinson
"To support Brian's fight" - Tammy King
" Five years ago today... Penny was operated on for Pancreatic Cancer..She is still cancer free" - Jon Austin
Jon Austin
"What a great lady and there is no better spokesperson for this great charity and cause" - Michael Downey
"You are an inspiration.Graham and I think of you often and hope that your time at our Mer de Glace condo in Tremblant brings you pleasure when you think of the view over Lac Mercier and the people who shared it. Best regards, Sandra....
"April - everyday, and in all you do you, continue to inspire. Keep fighting girl! You are in our hearts and prayers. Love Robin and David Brushey
" Friends of your sister, Praying for your recovery" - Pamela Miller
"Go for it, girl! Sit back and relax at some point soon. Much love" - Judy Hodgson
"Love and Pride" - Uncle John
Carmen Austrup
Cassandra Rodgers
Purple Party in Memory of Carl Walker
Gerry Gordon' s Mazda
Enns Brothers
Cypher International Ltd.
John Verogus
Northwest Company
Winnipeg Building & Decorating Ltd.
James Dube Spraggs
Michael & Bonnie Silver
Jennifer Walker
Christina Walker
Alison Fisher
Shirley Hill
Steven Suche
Donation Anonymous Cash
Niki Robertson
Al D.Reimer
Mignon North Payworks
Fort Rouge Auto Centre Inc .
Caroline Walker
Lindsay Frasear-Laidlaw
Samantha Dean
Trudy Tuhkanen
John Tuhkanen
Janina & John Kraus
Sandra & Thomas MacMillan
Karin & Dick Persson
Evan Thomas
Karen Staunton
Robert & Carol Florence
Heather Avery
James & Caroll Coghlan
Peter, Sharon, Glenn & Kenneth Marshall
Alissa Rappaport
Gary Grundman
Noah Sliwin
"To the Peters Family, Your mom was a very special lady who touched many lives. May you be comforted and find peace at this time " - Love The Hubbers
"Our thoughts and prayers are with you"- HCESC
Janis Fehr c/o Western Management Staff
Chinook Care Centre, Brentwood Care Centre, Southwood Care Centre
Sherry, Gary, Gayle & Darrell Ikert
Mark Riesmeyer
Pete Tedesco
Dan & Katie McClean
Matthew Jacobson
Argentina & Dorin Parasca
Jori Deegan
Leighton Brady
Michael Meyer
William Neenan
Justin Foley
Meghan & Steve Rak
Denise Wilson
Brian Gelber
Kathleen & Dan Devine
Laura Petry
Maren Baker
Mike & Linda Gillick
Richard Milligan
Jane Thertell
Bill Wernecke
Jocelyn Hurley
Helen Han & Ted Cushing
Judy MacInnis
Elizabeth Bender
Megan Thomas
Elizabeth McClean
Dan & Donna Petry
Ellen & Bryan Kenkel
Sonya & David Agnew
Susan Specia
Stephanie Specia
Kat & Madison Corden
Catherine Schiavone
Peggy Braman
Paula Demacio
Burke Family
Kelly Imig
Michael Petit
Erica Zandona
Peter Ferguson
Jennifer l. & Lynn M Gillick
Brittany M. & Lynn M.Gillick
Raymond B. & Violet M.Gillick
Jason C. Gillick
Lynn M & Raymond B Gillick Jr.
Jane & Stanley Marschner
Sonya Paisley
Aliza Finn-Welch
Jeffrey Ware
Amy Clemente
Kelly Imig
Carmen Maldonado
Alykhan Manji
Lydia Maldonado
John Cundill
Aqueduct Foundation
Jenny Gannon - "Together they have been fighting a good fight. May you enjoy another christmas with us Dad"
Claudio & Lydia Maldonado
Jessica Thompson & Zac Gent
Jennifer Pearcey... fighting pancreatic cancer
Betty Aldridge
Mike Bilodeau - help find a cure. I'm a survivor but for how long...