Committed to raising the profile
"Representing Pancreatic Cancer Canada as their National Spokesperson has given me the best volunteering experience I've ever had."
Libby Znaimer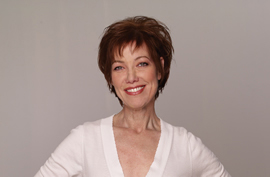 Libby Znaimer
We are very fortunate to have Canadian Journalist and Pancreatic Cancer Survivor, Libby Znaimer, as our national spokesperson and a member of our Board. She approached us shortly after finishing her treatment and asked how she could help us raise the profile of this devastating disease.
One reason this cause gets so little attention is that there are few survivors to tell the tale. Libby has been instrumental in putting the spotlight on both pancreatic cancer and our foundation and the results have been amazing in terms of increased profile. She recently wrote in her column in Zoomer Magazine that "I was surprised and thrilled - I don't think I've ever done anything that has reaped results so quickly".
About Libby Znaimer
Libby Znaimer is a prominent Canadian journalist specializing in health, the arts and lifestyle issues. After working in television broadcasting covering business and politics for two decades, she joined MZ Media in 2006. She serves as Vice-President of News and Information for both Classical 96.3FM and AM740. She is also producing and hosting The Zoomer Report, a special feature on all topics of interest to the baby boom generation; everything from health and wealth, to leisure and volunteerism, from the special vantage point of the generation that has changed society in its wake. Libby also writes a regular column for Zoomer Magazine.
Press Releases and News Articles
Mystery of pancreatic cancer prevails - Globe and Mail 2014
Thanks to groundbreaking research, broadcaster conquering cancer
Pancreatic Cancer Canada announces Libby Znaimer to Board
Broadcaster gets candid about cancer
$100,000 Gift for Research
Zoomer Reports and On Air/Television Interviews
World Pancreatic Cancer Day - WICC 2014 - Libby Znaimer - Keynote Speaker
World Pancreatic Cancer Day - Goldhawk Fights Back Interview - November 13th 2014
BRCA Mutation - Interview with Dr Steven Gallinger - 2014
Pancreatic Cancer Canada $100,000 gift for research
A Toast to Hope - November 2013
Two views on re-directing funds - CBC News
Lydia Toporowski's fight to get coverage for Folfirinox regimen - Zoomer Report
Health Minister Deb Matthew's Responds to Lydia's situation - Zoomer Report
Dr. Biagi of Cancer Care Ontario discusses his support of Folfirinox - Zoomer Report
New hope for Folfirinox approval - is on the Health Ministry agenda - Zoomer Report
Health Ministry Panel delays decision on fate of Folfirinox - Zoomer Report
Dr. Biagi comments after decision postponed until after summer break - Zoomer Report
Lydia Toporowski is cancer free thanks to Folfirinox but Gov't won't approve drug coverage