Champions for Pancreatic Cancer
"We are committed to improving pancreatic cancer survival through awareness, education, patient support and research."
Laurie Ellies, Ian Bowell & Betty Aldridge, Co-founders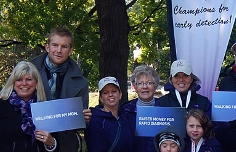 About Us
PCCF is focused on fighting pancreatic cancer through raising funds for research, awareness, education and advocacy in Canada. PCCF's goal's are to improve overall patient survival rates and create a brighter future for those affected by pancreatic cancer.
Since its inception in 2006, PCCF has invested nearly $4 million in research at cancer centres across Canada; funding scientific projects in early detection, treatment and improving patient outcomes.
We understand the many challenges facing those affected by pancreatic cancer and we want people to know there is hope. We provide support and resources that can help patients better understand their diagnosis and make informed decisions about their treatment options. We are proud to provide a forum for the exchange of experiences, ideas and questions.
Each year, individuals whose lives have been affected by pancreatic cancer connect with us in efforts to raise awareness and much needed funding. Some participate in our signature events; others hold their own fundraisers, contributing thousands of dollars to support lifesaving research. Two of the leading experts in both treatment and research are on our medical advisory board and work closely with us.
Betty Aldridge, one of the founders of Pancreatic Cancer Canada, shares her story above in the YouTube video, which was produced by Algonquin College in Ottawa.




Pancreatic Cancer Canada acknowledges the contribution of the Department of Canadian Heritage in making the translation of this website possible.
In This Section:
Mission and Goals
History
Leadership
National Spokesperson
How Your Money Is Spent
Corporate Champions
Contact us