Our Founders
Betty Aldridge, Laurie Ellies and Ian Bowell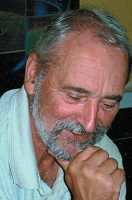 In August of 2005, we held our first fundraiser, The Dick Aldridge Charity Golf Classic, to honour the memory of former Toronto Argonaut, Dick Aldridge, who lost his brief battle with pancreatic cancer in June of 2004 and the memory of those who had passed before him including co-founder Laurie Ellies' mother.
In 2006, we applied for and received our charitable status and we continue to be the only national foundation devoted to raising awareness and funds for this deadly disease.
In nearly a decade, this grass roots organization has grown across Canada and has raised nearly $4 million dollars to advance research and its mission to erradicate pancreatic cancer.
Betty Aldridge announced her retirement plans in November 2014, and completed the transition in October 2015. Laurie Ellies and Ian Bowell continue to be active with the organization.
Read our Founders' personal stories:
My Story: Betty Aldridge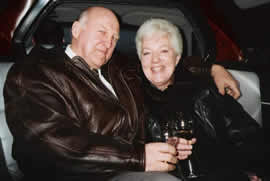 My world came to a crashing halt in June 2004. Dick, my beloved husband, father of Jodi and Rick and grandfather of Ty, Brady, Maddie (he never met his youngest, Chase) died within 6 weeks of diagnosis of pancreas cancer. He was only 62 years old, a professional athlete with the Toronto Argonauts in the 60's and 70's and Secondary School teacher at Runnymede Collegiate and Banting Memorial High School. He always looked after himself by running, weight lifting and staying active. He never smoked or drank and ate healthy meals. If he had a fault, it was his love of sweets, especially my home baked goodies.
The kids and I were devastated. We lost the anchor to our ship! My grief was unbearable but the support of my children was incredible, even to this day. However, as a spouse, when we lose our partner, we must learn to continue on our own as our children have their respective families.
As I say to the many people I speak to who are in similar situations, our lives become different.....and different becomes okay! Our lives will never be the same again.
I was convinced in 2005, that something positive had to be done.As a family, we decided an annual event bringing family, friends and associates together would be a wonderful way to remember a husband, father, papa, teacher, coach, athlete and friend. What a better event than a golf tournament. Dick was a great athlete, excellent in football, basketball and team sports in general. However he "sucked" at golf but enjoyed the camaraderie of his good friends Bill Symons and Peter Martin.
After the 2005 event, our volunteer committee of friends and family, including Ian Bowell and Laurie Ellies, who lost her Mom in 1996 to pancreas cancer, had a decision to make. What to do with the $55,000 raised from the event. In 2006 the Dick Aldridge Pancreatic Cancer Canada Foundation became a reality. We had become a legitimate charity with a charity number, listing on CRA website etc...
In 2010 it was renamed the National Pancreatic Cancer Canada Foundation. To date, we are a volunteer-driven organization relying on volunteers who have expertise in accounting, law, recording, fundraising, website development, volunteerism etc...Our foundation is truly blessed with all those who have made us a caring and compassionate organization.
I am determined to finish the battle my husband was unable to complete. I know we will find the ultimate cure!
Believe...that together, we can make a difference!
My Story: Laurie Ellies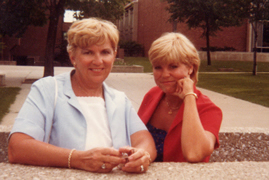 In 1996, I lost my mom, Mearle Larocque, suddenly to pancreatic cancer. She had no symptoms other than she had complained of lower back pain. It wasn't until she turned jaundice that doctors became concerned and investigated the source of her pain. The news that followed was devastating and the survival statistics even more daunting … "your mother has pancreatic cancer and she has no hope for survival". Four short weeks later, she was gone and my world left shattered.
Before my mom's diagnosis, I knew very little about the disease, in fact, my only recollection was that Michael Landon had died suddenly from it a few years earlier. When my family first received news of her diagnosis, I did what most people do; tried desperately to find out as much as possible about the disease in hopes that there was some small miracle that could save her life. To my dismay, I discovered that doctors knew very little about this disease, there was very little information available and that there was no organization dedicated to this disease. This was shocking and totally unacceptable.
Fifteen years later, there are, thankfully, organizations like ours across North America fighting to end pancreatic cancer but sadly not much has changed in terms of research funding. Less than 1% of the Cancer Research Budget in Canada is earmarked for pancreatic cancer yet this disease continues to be the most lethal form of cancer and the only cancer with a 5-year survival rate still in the single digits at 6%.
My mom wasn't able to beat pancreatic cancer, but her spirit and love has inspired me to take this cause to heart. I have made it my life's mission to continue her fight and champion this cause. I hope that by raising awareness and important funds to support research into screening methods and effective treatment options that we can significantly increase the odds for survival for all patients - odds my mother never had!
Together we CAN make early detection and effective treatments a reality!
My Story: Ian Bowell
In 2005, Ian joined the dedicated team of volunteers to create the Dick Aldridge Charity Golf Classic in memory of Dick Aldridge and raise funds to support much-needed research.
After the 2005 event, the volunteer committee of friends and family, including Betty Aldridge and Laurie Ellies, who lost her Mom in 1996 to pancreas cancer, had a decision to make. What to do with the $55,000 raised from the event.
Having known Betty and Dick for many years, Ian wanted to continue his support of this cause and was instrumental in assisting Betty and Laurie in attaining charity status. In 2006 the Dick Aldridge Pancreatic Cancer Canada Foundation became a reality.
Ian has been an integral part of the organization's leadership team. He served as Secretary/Treasurer in the early years and has been active on the the bi-laws and finance committees of the board.