Targeted therapy is the future
"There are a lot of interesting new therapies coming into clinical trials and we have been fortunate to obtain a number of the best new drugs for our upcoming studies in pancreatic cancer."
Dr. Malcolm Moore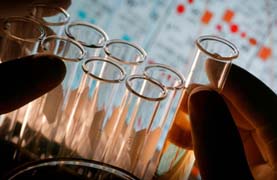 What are Clinical Trials?
Pancreatic cancer clinical trials are research studies that investigate new drugs, treatments or new combinations of treatments. By observing a patient's performance, researchers can confirm whether new treatments are beneficial for patients.
Many clinical trials are currently in progress and being part of a clinical trial may provide valuable information and help researchers make advances in treatment possible.
If you are considering a clinical trial it is important to establish that the proposed treatment is a better choice for you and will be more effective and have fewer side effects than the current treatment you are using. It is essential to discuss the trial very carefully with your physician.
Trials desperately need pancreatic cancer patients and in some cases, patients who participate in a trial may benefit from receiving cutting edge treatments resulting in an improvement in a patient's quality of life that is not provided by standard therapy.
Clinical Trials = Options + Hope
For the first time in years, doctors are making progress against pancreatic cancer. Although there is currently no cure, new drug combinations have proven to help patients live months longer than standard therapy.
Cancer treatment is very specific and tailored for the individual patient depending on the stage of pancreatic cancer. Gemcitabine is the standard chemotherapy drug used to treat pancreatic cancer either alone or in combination with other drugs.
There are a number of clinical trials that are underway world-wide to treat pancreatic cancer and it is only through participation in these clinical trials that advances are made in treating and increasing patient survival.
Clinical Trial Resources
NCIC Clinical Trials Group
National Cancer Institute
Canadian Partnership Against Cancer
Ontario Cancer Trials
British Columbia Cancer Trials
Centerwatch