We are here to help
"Remember, we all stumble, every one of us. That's why it's a comfort to go hand in hand."
Emily Kimbrough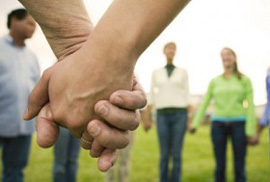 Facing Pancreatic Cancer
You are not alone. Every year, about 5,500 Canadians are diagnosed with pancreatic cancer. It's a terrible shock. But there is hope and there is help.
Pancreatic Cancer Canada is here to support you and your family. We make every effort to provide you with up-to-date and unbiased information on pancreatic cancer so you can make informed decisions about your treatment options.
We hope that the information we offer will add to the medical advice you have already received. Please continue to talk to your doctor, specialist nurse or other members of your care team if you are worried about any medical issues.
Pancreatic Cancer Canada can help you ask the right questions and better understand your disease so you can get the best possible.
We offer printable pdfs that will assist you on your journey. Here are a few to help you get started:
You've just been diagnosed...what's next?
Questions you may want to ask if you are being referred to a hospital or going to your initial appointment.

In This Section:
About Pancreatic Cancer
Newly Diagnosed - What's Next?
Treatment
Living With Pancreatic Cancer
Know the Facts
Clinical Trials
Join our Discussion Forum
Ask a Doctor?
Survivor Experiences
Educational Events/Symposia/Videos
Celebrity Faces of Pancreatic Cancer