Knowledge is power
"Dr. Ben is an oncologist from Australia who is working with us for the next 2 years. He will be happy to take your questions and provide you with medical advice and/or recommendations."
Dr. Malcolm Moore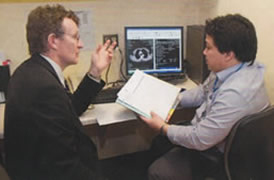 Ask a Question
A diagnosis of pancreatic cancer can be frightening and challenging. Pancreatic Cancer Canada is offering an opportunity for you to email your medical questions to Dr. Ben for advice and support.
Questions can be submitted by sending an email to dr.ben@pancancanada.ca
The McCain Centre for Pancreatic Cancer at Princess Margaret Cancer Centre provides rapid diagnosis and coordinated care by a dedicated, inter-professional team across all specialties.
To be referred, please ask the referring physician to contact the McCain Centre by fax 416 946 2043 and phone 416 946 2184. These numbers are direct to the McCain Centre. Your current physician needs to provide (if they have it): ·
A letter of referral·

Your background information·

Your pathology report·

A list of any surgeries you've had·

All your clinical notes·

Your diagnostic imaging reports·

Any other diagnostic reports