Our hope for the future
"Only by giving the best and brightest scientific minds access to the resources they need will we find better treatments and ultimately, a cure."
Dr. Randy Pausch, Author, The Last Lecture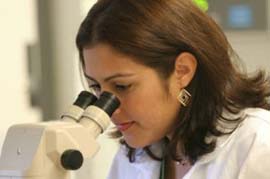 Research
Often referred to as a 'SILENT' disease, pancreatic cancer can grow undetected into advanced stages, when current chemotherapy drugs offer limited benefits.
Pancreatic Cancer Canada is committed to supporting research aimed at identifying earlier detection methods, better treatments and a cure. We believe that supporting research is key to unlocking the mysteries of this devastating disease. Progress has been made but there is still so much work to do!
We have established partnerships with leading research hospitals and continue to be their foot soldiers in raising the profile of this disease and the much needed funds to support research. Thanks to cutting-edge research, patients have reason to hope. We now have several long-term survivors who continue to be a source of hope and inspiration. With continued awareness and funding, we will conquer this silent killer!
In 2015, the Pancreatic Cancer Canada Foundation partnered with the Canadian Cancer Society, Craig's Cause Pancreatic Cancer Society and the QEII Foundation to collaboratively support a unique research grant. The Canadian Cancer Society highlighted the strength of this partnership in their annual Research Impact Report. Click here to view the Canadian Cancer Society's most rescent Research Impact Report, which outlines the impact of research funded by Canadian Cancer Soceity donors, supported through their central research program.
In This Section:
Why Support Research?
What We Are Funding? - Targeted Initiatives
Your Donation in Action - Distribution of Funds