Sindy Hooper - Anything is possible...
Hi. My name is Sindy. I live in Ottawa, Canada and spend most of my time as a mom, wife and triathlete. I love to swim, bike and run. 2012 was a very special and memorable year for me as I trained for my first Ironman and tried, for the first time, to qualify for the Hawaii Ironman World Championship.

Through the spring and summer of 2012, my husband, Jon, and I spent a lot of time training with a wonderful group of friends. We trained through the week and spent most weekends swimming, biking and running from morning to dinner time. We loved the active, healthy lifestyle and the friendships that were developed as we tackled longer and longer training days together.
In June, 2012, I raced a half Ironman (2k swim, 90k bike, 21.1k run) in Cambridge Maryland and missed qualifying for the Ironman World Championship by one place. In August, 2012, I completed my first Ironman (4k swim, 180k bike, 42.2k run) in Mont Tremblant, Quebec, loved the day, finished in 11 hours and 38 minutes, and missed going to Hawaii by 2 places. Ironman was so much fun that a bunch of us registered for Ironman Canada, August 25th 2013 in Whistler BC. My goal was to finish in 11 hours, make it onto my age group podium and earn my spot to race at the Hawaii Ironman World Championship.
My Symptoms
Around my 50th birthday on Dec 9th I started having some upper abdominal and mid back pain. At Christmas my skin became itchy and at New Year's I had stomach cramping and some diarrhea. On Jan 1st I was exceptionally tired after a 15k slow run and on Jan 2nd my eyes looked jaundiced. Jon arranged for blood work and an ultrasound that afternoon at The Civic Hospital, thinking I might have gall stones.


The Diagnosis
After an exceptionally long ultrasound the radiologist told me I had a malignant tumor on my pancreas, a cancer. Shock, disbelief, my world felt shattered. How is this possible when I'm in the best shape of my life? When Jon and I were alone I asked him "Is this a good cancer or a bad cancer to have?" He replied "a bad one" and we both cried, hugging each other not knowing what to say next.

I soon learned that the predisposing factors for pancreatic cancer are smoking, obesity, age over 55, African American heritage, pancreatitis, and diabetes. I had none of them. Pancreatic cancer is the 4th leading cause of cancer-related death in Canada and the lifetime probability of developing pancreatic cancer is approximately 1 in 79. It has the highest mortality rate of all the major cancers; 75% die within the first year of their diagnosis (most within the first 3 - 6 months) and 94% of patients die within 5 years. Surgery offers the best chance for long term survival, however, only 15% of patients are diagnosed early enough to be eligible for surgery.

I had a CT scan the next day, on January 3rd, to find out if the tumor I had was able to be removed or not. On Jan 4th I had an appointment with a really great surgeon; who confirmed that I should have surgery as soon as possible. For the next 3 days we all prayed that the tumor could be removed. I thought a lot about the possibility of only living for three to six more months, and I was absolutely terrified.


The Surgery
January 7th I was admitted to hospital and January 8th was surgery. I had a Whipple Procedure that lasted 7.5 hours and they removed ½ of my pancreas, 1/2 of my stomach, my gallbladder and 1/3 of my small intestine. I woke to learn the tumor had been removed. I was very fortunate to be in that small group of 15%. The statistics say I now have a 10% chance of living 5 years. After facing the fear of living for only 6 months, 2 years, 5 years, maybe more is a wonderful gift. I am extremely thankful for every day I get to enjoy this beautiful life.
Recovery from Whipple surgery began. Pathology showed that there was no spread to lymph nodes, blood vessels or nerves, however, there was microscopic tumour left in two spots.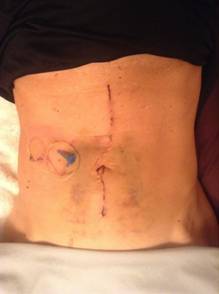 Jan 29, 2013 – 3 weeks post Whipples surgery (note taken only 1 day before the next photo)
Post Surgery
After surgery I was told about the radiation and chemotherapy I'd have over the next 8 months; IV chemotherapy (once a week for 3 weeks, one week off) from mid February until mid September, with a break in May for 28 days of radiation and oral chemotherapy. I asked my surgeon if he thought I might be able to do Ironman Canada in August. He looked puzzled. I clarified the distances; 4k swim, 180k bike, and then a marathon (42.2k). He shook his head in disbelief and mumbled something about moderate exercise being good for me. I emailed a chemotherapy doctor and asked her. She replied, in brief "Chemotherapy and radiation will be very fatiguing and have huge effects on your body. Hoping to do an Ironman would only be setting yourself up for nothing but disappointment". I was crushed and very, very sad.
My Training
A few days later, my outlook and feelings started to change. I was registered for Ironman Canada, I wanted to try. I'd never listened before when someone tried to put limits on what I could accomplish. I planned to start swimming, biking, and running again when I was able, and just see what I could do. In addition, I wanted to raise awareness of pancreatic cancer and raise money for much needed research. My goals were to "moderately exercise" my way to Ironman Canada and raise money for Pancreatic Cancer Canada (PCC). I knew my cancer treatments would affect how I could swim/bike/run but I was committed to not having the exercise affect my treatments.
2 weeks post surgery, I was outside, in the freezing cold Canadian winter, walking with my trusty Garmin, which had recorded so many previous runs; a 1k, walk, then 2k, and then 3k.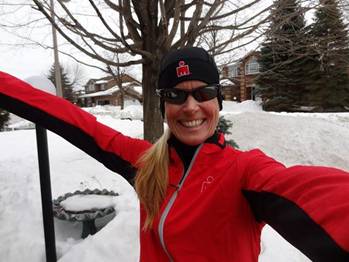 Jan 30, 2013 – happy to be outside walking!
At 5 weeks I got back onto my bike trainer. 6 weeks and I was thrilled to be back in the pool (floating and easy breast stroke but in the pool nonetheless). Last year's training volume and swim/bike/run speeds were reduced to about 75%. There is no intensity. A ride I used to do at 30km/hr is now 24km/hr. Last year's 2.5 hour long runs covered 30k. It's now walking with 100m jogs on flats and down hills, covering only 17k. At first, these changes were frustrating and difficult to accept. I kept pushing harder, which only left me feeling tired and defeated. The physical pain and mental exhaustion of surgery, chemo and radiation, have been more than I could bear at times. Radiation and chemotherapy kill cancer cells, but it's like trying to kill a mosquito with a baseball bat, there's going to be collateral damage. The radiation that targeted microscopic cancer cells left after surgery also hit my stomach, small intestine and liver causing ongoing digestion problems. Weekly chemotherapy leaves me wiped out for 36 hours, impossible to "moderately exercise" during that time. My bone marrow isn't producing enough red blood cells so hemoglobin has been steadily dropping ….. I was able to run 5k at Ottawa Race Weekend in May 2013 and can now barely jog 100m. My muscles aren't recovering the way they used to. The strength and fitness gains I used to make during recovery (a day off training) just don't happen anymore.
Slowly, I learned to accept what I could do, and everything became much happier. Instead of focusing on how far behind everyone I was on the bike, I appreciated being outside, the wind on my face, the fact that my friends always circled back for me. I could still swim in beautiful Meech Lake and bomb down hills on my bike. I know that my training partners changed their schedules on many, many occasions to accommodate when I could get out and what I was able to do. I've learned how to appreciate what I have rather than focusing on what I've lost. I learned how to exercise safely; to the levels that promote recovery first, and provide me with physical and mental enjoyment second.
Why have I continued to "moderately exercise" for the last 8 months? When I go to radiation, chemotherapy, take meds, look at my scar, I feel like a cancer patient; sad and scared. When I swim, bike and run I feel like an athlete; healthy, happy, and hopeful. I enjoy these times of swim/bike/run with Jon and a very special group of friends who have supported and loved me through this most difficult time.
July 27, 2013 – Thrilled to complete a 6 hour ride
It's been 7 ½ months since my diagnosis. With the help of my amazing husband, family and friends we've accomplished some wonderful things. We've raised $17,500, so far, for PCC. I've slowly progressed from floating in the pool to fly, flip turns, and 4k open water swims. From easy spins on my bike trainer to a 6 hour ride from Mont Tremblant to St Donat. And, from the 1k walks that took 17 minutes in January to last weeks 3 hour walk/jog that covered 23k. I've come a long way thanks to the help of many incredible people and so many special favors that I would never even have dreamt possible. To everyone who has supported me; thank you, from the bottom of my heart.
Will I be able to complete Ironman Canada?
I don't know. I've searched the internet and have not been able to find anyone who has completed an ironman while still on chemotherapy (I've had 14 sessions of chemo, 3 more when I return). This makes me nervous, but doesn't take away my hope. I know I can complete the 4k swim and bike the 58k from the lake back to Whistler. From there my plan is to bike the remaining 122k and walk/jog the marathon (42.2k) from one aid station to the next until I don't meet a time cut off. I have 17 hours to finish; my goals are a 1:30 swim, 15 min transition, 8:30 bike, 15 min transition and 6:30 marathon. If you'd like to follow me on August 25th, go to ironman.com. Under the "Coverage" tab, click on Ironman Canada, click on "Athlete Tracker" and enter Hooper (you'll get both Jon and I) or bib #870.
If you'd like to support my efforts to complete Ironman Canada and raise money for pancreatic cancer research, please go to my fundraising page at http://donate.pancreaticcancercanada.ca/site/TR?pxfid=1890&pg=fund&fr_id=1060. Pancreatic Cancer Canada is our only national volunteer-driven foundation dedicated to raising money and awareness for this deadly disease.
If you'd like to do something for me … please don't take your life for granted. No one knows what lies ahead for any of us. Live each day to the fullest, with gratitude and happiness for all you are able to experience with your family and friends.
We fly to Vancouver and drive up to Whistler this Sunday. I've never been to Whistler so I'm so excited about spending a week prior to Ironman touring around the village, checking out the swim/bike/run courses and the beautiful mountains and relaxing in the fantastic hot tub on the deck of our townhouse.
I do believe ... Anything is possible.

Thank you, once again, for all your support,
Sindy