MRI Coil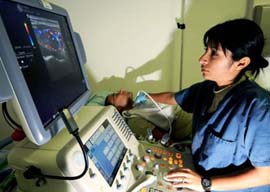 Early detection of pancreatic cancer is essential in diagnosing tumors early on and giving patients the maximum chance of a cure. Dr. Steven Gallinger and Dr. Masoom Haider are currently studying early detecton in individuals who have a high risk of developing pancreatic cancer. Pancreatic Cancer Canada was pleased to provide funding for a study that examined the effectiveness of advanced MRI techniques as a means to detect pancreatic cancer tumors at an early stage.
Commonly used imaging methods, such as CT and MRI, are insensitive to very small cancers on the pancreas. The deep central location of the pancreas unfortunately reduces the signal strength and limits mass detection, therefore, tumors under 1 cm in size are difficult to see.
Optimization of the signal strength would allow a tumor to stand out in imaging. A prototype coil was developed to increase the signal from the pancreas and magnify the resolution. Based on initial testing, the signal gain from the prototype coil greatly improved the image quality. This technology offers the possibility of significant enhancements in clinical MR Imaging applications.
Listen to Dr. Steven Gallinger discuss his initial findings from this study.